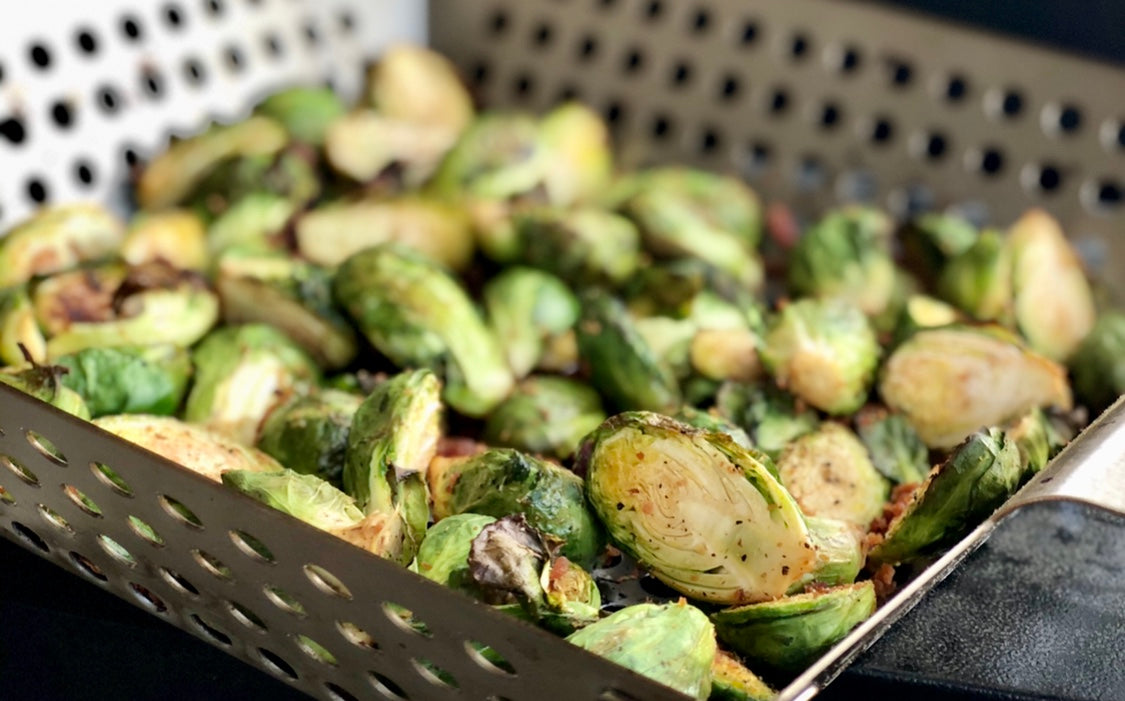 SMOKED BALSAMIC BRUSSEL SPROUTS
Smoked Balsamic Brussel Sprouts are the perfect side-dish for your next barbecue. Roasting them on a TOFTMAN® Grill Basket will give that perfect smokey flavor and add light golden color. A light dusting of savory spices contrasts and compliments the splash of bright Balsamic, and optionally add Bacon because, well, Bacon makes everything better. 
 DIFFICULTY: 2/5
PREP TIME: 10 MIN
COOK TIME: 25 MIN
SERVES: 8-12
HARDWOOD: HICKORY 
INGREDIENTS:
2 LBS. FRESH BRUSSELS SPROUTS
2 TBSP. OLIVE OIL OR VEGETABLE OIL
SALT AND BLACK PEPPER, FRESHLY GROUND, AS NEEDED
1 SMALL ONION DICED
1/2 CUP CHICKEN STOCK
6 STRIPS BACON, THICK-CUT, DICED (OPTIONAL)
1 TBSP. BALSAMIC VINEGAR (OPTIONAL)
PREPARATION:
When ready to cook, set temperature to 450˚F and preheat, lid closed for 15 minutes.
Line a large baking sheet with foil for easy cleanup. Combine all ingredients, except the chicken stock, bacon, and balsamic vinegar..
Place the sprouts, cut side down, in a TOFTMAN® Grill Basket. Roast until they turn a light golden brown (about 8 - 10 minutes).
Add the cooked bacon (optional), pour chicken stock and balsamic vinegar over the sprouts, mix and continue to cook until the liquid has thickened. Remove from heat. Enjoy!
*Cook times will vary depending on set and ambient temperatures.
*Shop TOFTMAN® Grill Basket