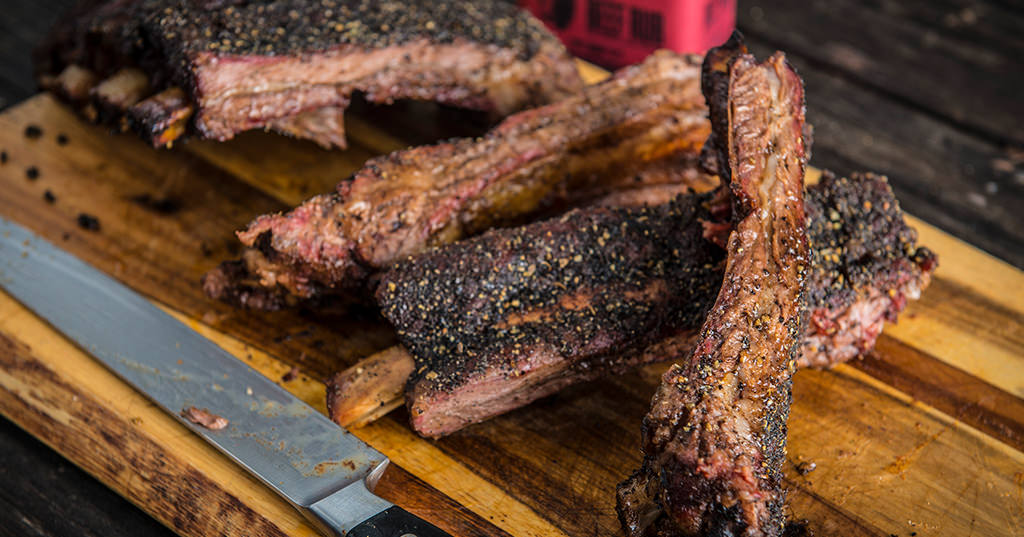 FALL-OFF-THE-BONE BBQ RIBS
Grab your rib bib & sink your meat tooth into these tender, sweet & spicy ribs. They smoke low & slow but are worth the wait.
DIFFICULTY: 3/5
PREP TIME: 10 MIN
COOK TIME: 2.5 HOURS
SERVES: 4-6 
HARDWOOD: ALDER
INGREDIENTS
CANNIBAL BONE RIBS
4 SLABS BABY BACK RIBS
1/2 CUP APPLE JUICE 
1/2 CUP WHITE GRAPE JUICE
HONEY, AS NEEDED
TRAEGER BBQ SAUCE
RIB RUB
2/3 CUP BROWN SUGAR
1/2 CUP PAPRIKA
1/3 CUP GARLIC POWDER
2 TBSP. ONION POWDER
2 TBSP. CHILI POWDER
1 TBSP. CAYENNE PEPPER
1 TBSP. GROUND BLACK PEPPER
1 TBSP. GROUND WHITE PEPPER 1-1/2 TSP. DRIED OREGANO 1-1/2 TSP. GROUND CUMIN
PREPARATION
Combine all rub ingredients in mixing bowl; mix well. Sprinkle both sides of ribs liberally with rub.
When ready to cook, start the Traeger on Smoke with the lid open until a fire is established (4-5 minutes). Turn temperature to 275 degrees F and preheat, lid closed, for 10 to 15 minutes.
Place ribs on grill; close lid and cook for 45 minutes.
Meanwhile, combine the apple and grape juices in a small bowl and set aside.
Remove the ribs from the grill and place them bone side down on a large sheet of heavy duty aluminum foil or a large disposable foil pan. Pour the juice mixture over the ribs. Drizzle a generous amount of honey over each slab. Wrap up the ribs completely with the foil and seal the edges.
Return the ribs to the grill and cook for 1 hour.
Remove the ribs from the foil and place directly on the grill grate. Turn the heat up to 350 degrees F and cook for 30 additional minutes.
Slather the ribs with your favorite Traeger BBQ Sauce and cook for an additional 5 minutes to set the sauce.
Remove the ribs to a cutting board. Slice into single serving-size pieces and serve. Enjoy!
* This recipe was first published on: 
https://www.traegergrills.com/recipes/pork/cannibal-bbq-ribs