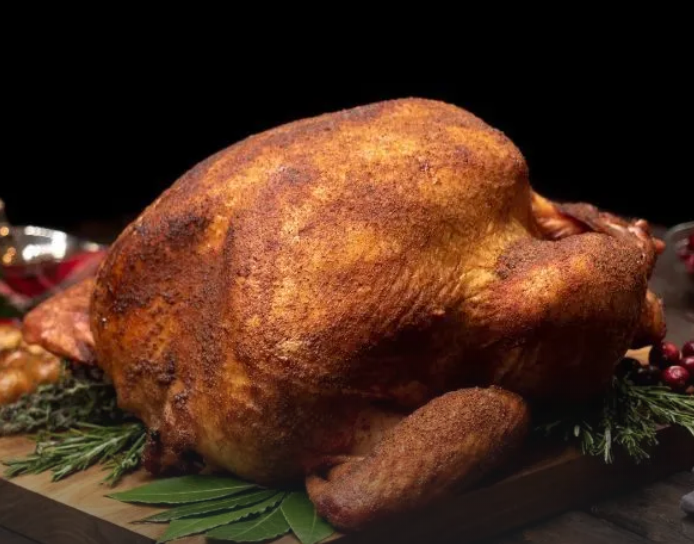 Smoked Turkey
This smoked turkey starts with a sweet and spicy flavor profile from a smoked turkey brine with brown sugar, cinnamon and cloves. You can use the same brine or substitute with one of your favorite recipes. If you're going to brine your turkey for 24 hours, you'll want to prepare it the day before you plan to smoke it.
The sweet and spicy index is increased with a dry rub that features more brown sugar, along with paprika and chili powder. Then, it's smoked over apple wood chunks to add that distinctive wood-fired flavor.
Prep Time: 0:30
Cook Time: 5:00
Total Time: 5:30
Level: Beginner
Servings: 8-12
INGREDIENTS
Smoked Turkey
1 whole turkey, 10-16 pounds
2 tablespoons olive oil
Dry Rub
1/2 cup brown sugar
1 tablespoon garlic powder
2 teaspoons onion powder
1 teaspoon paprika
1 teaspoon chili powder
1 teaspoon black pepper
4-5 apple or cherry wood chunks
PREPARATION
1.
Preheat smoker to 250°F. Add 4 to 5 wood chunks.
2.
In a medium-size bowl, combine brown sugar, garlic powder, onion powder, paprika, chili powder and pepper.
*
HOT TIP: 
There are a number of varieties of paprika and they range in flavor from sweet and mild to pungent and hot. Most grocery stores carry mild paprika. You'll find the more pungent variety at ethnic and gourmet markets.
3.
Brush entire turkey with olive oil and season with the dry rub.
4.
Place the turkey in your smoker and cook until the internal temperature reaches 165°F, about 4 to 6 hours.
5.
Remove turkey from the smoker and let it rest for 15 minutes before serving.