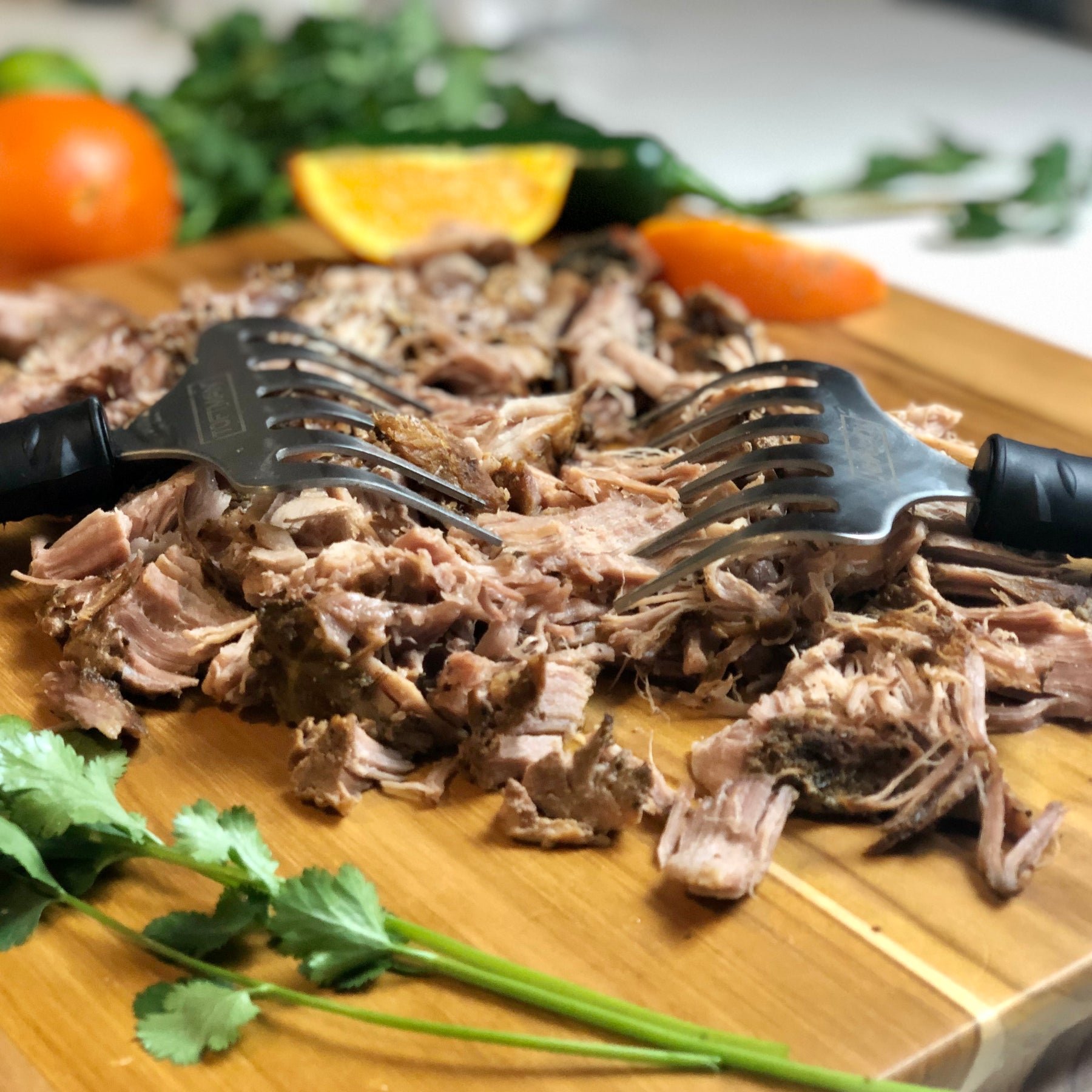 Orange Barbecue Pulled Pork Sandwich
This orange barbecue pulled pork sandwich is full of orange flavor, using both orange juice and orange zest. It is also easy to make in your slow cooker/crockpot.
TOTAL TIME: 
6 hours
10 minutes
4 lb boneless pork butt roast
1 ½ tsp salt
½ tsp ground black pepper
1 small onion, sliced
1 cup orange juice, freshly squeezed preferred
6 oz tomato paste
¼ cup cider vinegar
3 TBS honey
3 TBS Worcestershire sauce
1 ½ tsp paprika
1 tsp orange zest
3 garlic cloves, crushed
1 ½ tsp chile powder
¼ tsp cumin
½ tsp onion powder
1 tsp molasses
8 kaiser rolls
Instructions
Trim off the large chunks of fat from roast and season with 1 tsp salt and ½ tsp pepper.
Place pork roast in a 6-quart slow-cooker with onion slices.
In medium-sized bowl whisk together orange juice, tomato paste, cider vinegar, honey, worcestershire sauce, ½ tsp salt, paprika, orange zest, garlic cloves, chile powder, cumin, onion powder and molasses.
Pour barbecue sauce over the pork roast and cover the slow-cooker.
Cook on low for 8 hours or on high for 5 hours.
For the last hour, remove the roast from the slow-cooker.
Use two forks or your fingers to pull pork apart until the entire roast is shredded. Discard any excess fat.
Return shredded pork to the slow-cooker and continue cooking for one hour.
Place pulled pork into serving dish and mix in with some of the juices from the slow-cooker.
Serve with kaiser rolls.
You can also

 

smoke the pork roast over

 

the grill and serve with this orange barbecue sauce.
Be sure to check out our Meat Rakes for this recipe! 
* This recipe was first published on: 
https://familyspice.com/orange-barbecue-pulled-pork-sandwiches-2/