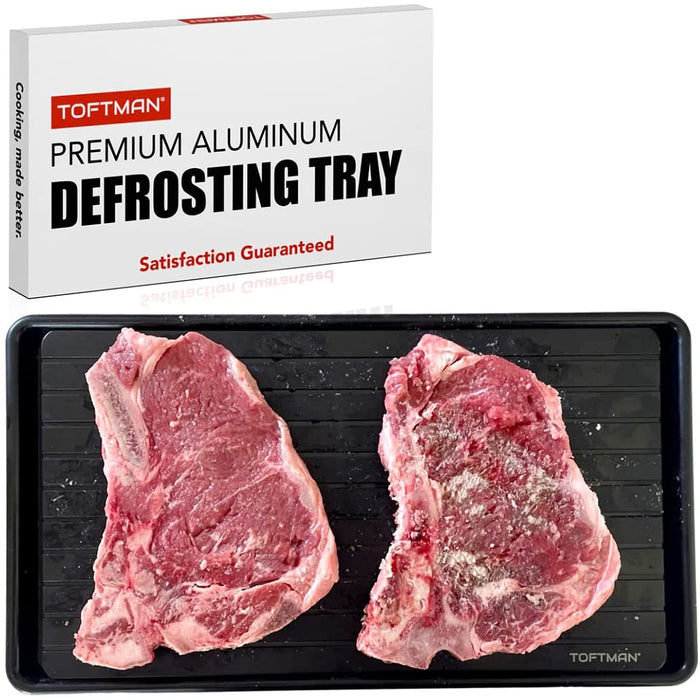 Quick and Even Thawing: Thaw meat in less than half the time with your TOFTMAN Meat Defrosting Tray. Made of highly conductive food-safe aluminum, this thawing plate will evenly defrost your food quickly and safely.
Preserves Natural Flavor: Impress your dinner guest by preserving the natural flavor of the meats you thaw. Cook meat to perfection with our Premium Aluminum Defrosting Tray. This defrost board is a safe way to thaw food.
Sleek Design & Built to Last: Crafted with premium aluminum steel, this defrosting plate will last for years to come. We designed this tray to be durable yet lightweight. The deep channel groves will drain excess water to thaw your meat in less time. It's made with rounded corners and elevated bottom rails. The large, non-stick surface is very slim for convenient storage in compact places. Includes drip tray.  Dimensions 14" x 8" x 12mm.
Easy to Use & Clean: Simply place your unpackaged frozen food directly on the non-stick defrost tray and it will thaw your food.  For best results, flip meat every few minutes and drain excess water into the drip tray. To clean, use mild soap and soft sponge or cloth. Not dishwasher safe. Add this meat defrosting tray to your professional kitchen today.
TOFTMAN Promise: At TOFTMAN, we are a family-owned company, If you are not completely satisfied with your product, simply send it back—we'll make it right! Once your product arrives, remember to register your LIfetime Warranty.