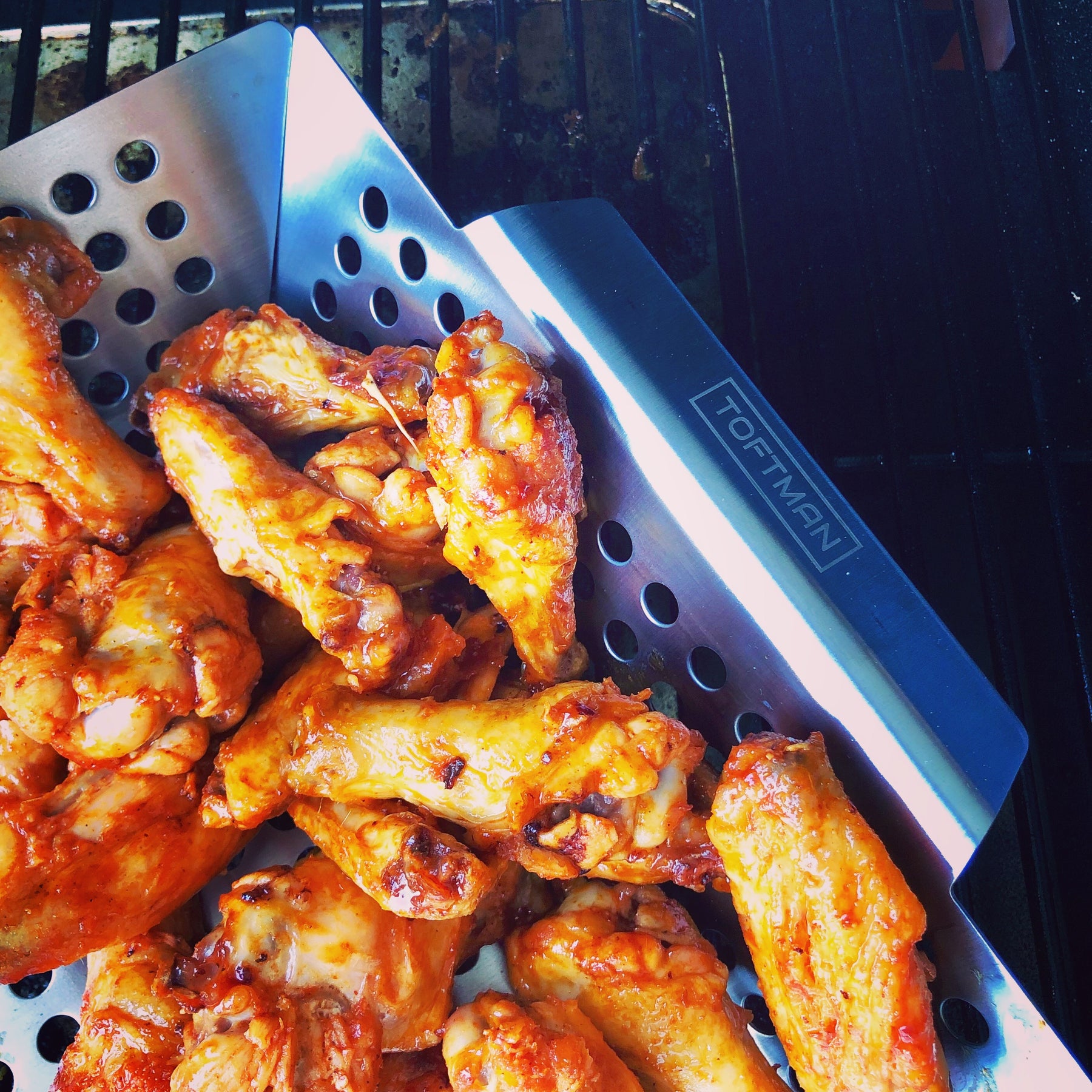 5 First-Timer Hacks for the Perfect Smoked Wings
     Chicken wings cooked on a smoker grill. Follow these fool-proof hacks with easy instructions to make the perfect wings for your friends and family on the next game day! 
HACK #1: FIND THE PERFECT RUB
     There are many great recipes out there with rubs and sauces you can make from scratch, but when experimenting with wings for the first time, we find it simple and fool-proof to go with a seasoning that you already know will add the perfect flavor to your chicken. Doing so will help you avoid adding dozens of steps and more room for mistakes. We sampled several different seasonings at our local BBQ shop and fell in love with WING DUST…. We decided to mix the honey bbq flavor with the buffalo and the taste was amazing! It adds a big kick while only using a small amount of seasoning.
HACK #2: GREASE GRILL GRATE WITH OIL 
     You can put frozen or thawed wings directly onto the grill grate, just make sure it is greased with an oil that does not easily burn in high temps! We love grilling with avocado oil because it is healthy and has a high burning temp. If you have time, you can marinate the wings in oil before grilling, but we simplified the process by wiping the grate down with oil and placing our frozen wings directly on the grill. You don't want to open a grill to amazingly crispy wings just to have all the skin pulled off from sticking! 
HACK #3: USE A MEAT TEMPERATURE PROBE
     When experimenting with wings for the first few times, it's important to be able to check the temperature of your meat to know how long to cook your chicken, especially since the time greatly varies from frozen to thawed chicken. This will allow you to be sure your meat is fully cooked while maintaining a nice juicy inside with amazing texture. You shouldn't have to lift your lid a million times to check your meat. We put frozen wings right onto the grill and they cooked for about an hour at 375 degrees while only opening the lid halfway through to flip the wings over and of course at the end to check the temp. For thawed wings it takes about 35 minutes. You want to make sure that the internal temperature of the wings reach at least 165 degrees, but we find the best texture is reached at 180 degrees. See hack #4 for an easy way to get that crispy skin everybody likes with nice, juicy meat on the inside. 
HACK #4: USE HIGH HEAT TO CRISP SKIN AFTER COOKING
     Cook your wings at 375 until an internal temp of 165 is reached (flip wings over halfway through) For frozen wings, it is about 30 minutes on each side. Then set grill temp to high to crisp the outside skin of the wings and create a juicy inside texture with an amazing outside texture. This takes about 5 minutes and the ending temperature should be 180 degrees. 
HACK #5: SHAKE SHAKE SHAKE FOR THE PERFECT SEASONING
     After cooking, place your wings in a bowl and add your preferred seasoning. Then cover with plastic wrap and shake away for the perfect, even coating of delicious flavor! We used 2 parts Honey BBQ to one part Buffalo for a sweet tangy flavor with a spicy kick. We started with 1 tsp Honey bbq to ½ tsp Buffalo for 15 wings. Start with a small amount and add more flavor to taste. The taste stands alone without sauces, but for the dippers in your family, you can't go wrong with a side of ranch.
 SMOKED BUFFALO WINGS
PREP TIME: 10 MINS
COOK TIME: 1 HOUR
TOTAL TIME: 70 MINS
INGREDIENTS:
• 15-20 Chicken wings
• Desired rub (Wing Dust works great)
INSTRUCTIONS:
1. Preheat grill for medium heat (350-375 degrees F).
2. Place thawed chicken wings in bowl and baste with avocado or cooking oil. For frozen wings, baste grill grate with oil and place directly on grill. 
3. Transfer wings directly on grill grate once temperature is between 350-375 degrees F.
4. Set timer for 30 minutes then flip wings and set timer again for 30 minutes. 
5. Insert temperature probe into wing. Once wings reach an internal temperature of 165 degrees F, turn grill temperature to 450 degrees F for 5-10 minutes or until temperature reaches 180 degrees. Check for desired crispiness.
6. Transfer wings into a large mixer bowl and shake rub on top of wings. Use plastic wrap for best results.